Blog Post – 09.30.2018
| My illustration art technique & Process |
LINE WORK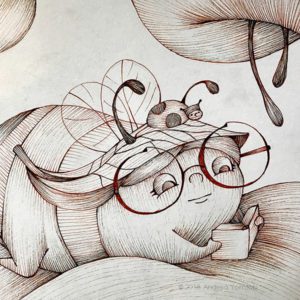 I scan my pencil sketches into the computer where I work further with composition, scale, etc. in Photoshop. I work at the necessary size of the book. Once I'm happy with it, I'll print out the concept as a reference for the final cleaned up drawing. I like using fine Micron pens on heavyweight Bristol paper, 300 Series. There is no reason other than I like how the paper and pen relate to one another when drawing meticulous and delicate lines. This is where I add fine detail,clean up the lines, and enjoy the meditative process of creating my art.
WOOD TEXTURE & COLOR

After my line work is complete, I set that aside and move onto wood texture. I use high quality birch veneer panels often used for wood block prints. I can have them cut to any size I need. The one pictured here is 6 x 8 inch, which I double up for a double page spread in a book. I'll gesso the board using thick brush strokes to obtain texture, and let it dry.
I make a copy of my finished line work and tape it down on a registering device I created. This allows me to line up the pen drawing on the textured wood board. I fold back the paper while I dry brush acrylic paint onto the areas of wood board that need color. I then bring the paper back back down to see if I filled in the entire area or need to apply more. I continue this method until I've painted in color where I want. I let this dry once again.
RICE PAPER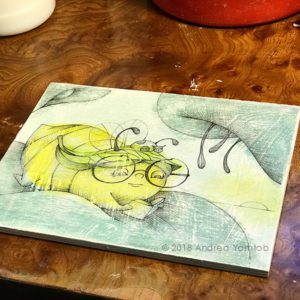 I print out my final ink drawing on thin, acid free, Japanese paper. I apply this to my painted wood board and let it dry. This technique allows the textured board and color to be seen under the ink drawing nicely.
ACRYLIC PAINT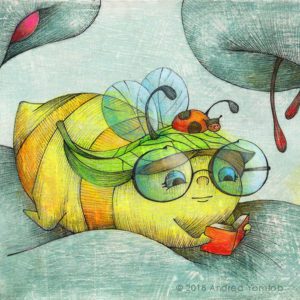 Storytime / 6 x 8 in / ink , acrylic, Rice Paper on wood / ©2018 Andrea Yomtob
I finish the illustration with acrylic glazing.
-Andrea