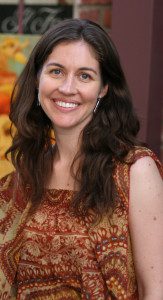 A native of Camarillo, California, Andrea Yomtob graduated cum laude from Art Center College of Design in Pasadena. Known for her bright colors and bold textures, her work can be found in theatrical/TV Animation and childrens books as well as museums throughout California.
Yomtob's work interweaves elements of symbolic and mythical imagery with subjects of nature and renewal, often characterized as Magical Realism.
Her painting technique employs two very unique and distinct styles. The first, an oil and wax technique passed onto her by her mentor, Nicaraguan painter Omar d'Leon, involving a tedious method of layering of texture on canvas. Her original second technique employs layers of acrylic and resin on wood combined with fine pen work.
Her art work can be found in the permanent collections of Carnegie Museum of Art in Oxnard, CA. and the Ventura County Museum Of Art. In addition, she exhibits regularly in Los Angeles, Monterey, Carmel, San Francisco, among other galleries in CA.
Gallery Representation:
Treasures One Gallery
210 W. Fesler Street, Santa Maria, CA.