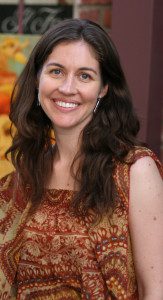 A native of Camarillo, California, Andrea Yomtob graduated cum laude from Art Center College of Design in Pasadena. Known for her vibrant colors and bold textures, her work seeks to illuminate the beauty within every day life.
Her acrylic painting technique involves applying several layers of acrylic and resin onto wood panels. Each new layer is scraped down using rough objects. Fine pen work is applied to accentuate the form and detail.
Latin American art has been a strong influence in Yomtob's work since she began painting with Omar d'Leon, an internationally renowned artist from Nicaragua, since the early 90s. Over the years, she has incorporated his unique wax and oil technique into her paintings on canvas and exhibits with him in California.
Her Fine Art work can be found in the permanent collections of Carnegie Museum of Art and the Ventura County Museum of Art. She has exhibited in Los Angeles, Monterey, Carmel, San Francisco, and other galleries in California. She resides with her husband and son in Los Angeles and Carmel, California.
Gallery Representation:
Treasures One Gallery
210 W. Fesler Street, Santa Maria, CA.